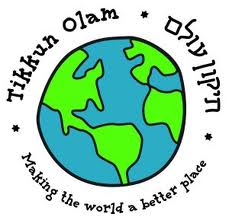 In Judaism, we have a required work, called, Tikkun Olam; which translates to "repair the world". It calls all Jews to take up work that will help to repair the ills of the world, one good deed at a time. Some argue this is a call to social action or social justice, you can read about the beginning of the debate
here
.
I think it quite succintly explains why so many Jews work in service of some type; law, medicine, education and many others.
As a teacher, and former nurse, I feel as though I have a unique position to pass on to my students an interest and a love of serving others. I try to find ways that our work in class either connects with their real-world lives or that we can connect it to other things. Such as, their long-term assignment of writing science books at a kindergarten level. This may sound easy, but once you take a look at the
Dolch primer list
of words, the project becomes astronomically more difficult.
This year, teaching feels a bit like we are under attack. It seems every way we turn there is someone else wanting to fill out a form, check a box, observe a space, or give some new standardized test to see what we're up to. I'm not sure what's helping and what's junk, but it's a lot.
Ultimately, I have to believe that what I am doing is helping. I have to believe that I am empowering my students to "think globally and act locally". My students asked if they could read their books to small children once they are finished, so I'm working on a field trip for them to go to area feeder schools and read to the students at their old elementary schools. I hope that the kids I'm teaching can show the kids I'll eventually teach that science is fun!
I think this is one of the many reasons why I can't leave education just yet.
I feel like I need to for personal reasons, mostly financial. But the love I have for the work and for the kids keeps pulling be back.
I guess eventually I'll get run down enough that I will finally give in. But for now, I'm going to keep pushing.
To that end, if you would like to help me in my quest to help St. Jude, please feel free to follow
this link
or
this link
, for my daughter's page and donate.